Thursday, November 21, 2019
by
GlobalCore is the future that OEMs and end users around the world have been asking for: a unified family of robust hydraulic hoses designed to endure the tough conditions where work gets done.

Specified by working pressure, not construction, GlobalCore is the world's first high-performance cohesive hose and fitting system. Designed, built, and tested to the ISO 18752 specification, the GlobalCore system simplifies specification for OEMs and end users around the globe by providing a comprehensive family of products for the most commonly used constant working pressure classes.

Choose from six hoses, three cover options, and two fitting series, all available through a worldwide network of distributors.

Why use traditional regional standards to specify hydraulic hoses, when your equipment is built, used, and maintained all over the world? The global ISO 18752 standard helps solve these issues. Request our free whitepaper about how adopting the global ISO 18752 standard simplifies the specifications of hydraulic hoses across applications, markets, and locations.
Check out our GlobalCore infographic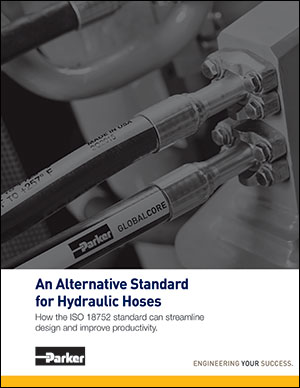 Haven't adopted the global ISO 18752 standard when specifying hydraulic hoses for your systems? Download and read our whitepaper on why more OEMs and end users are looking for the single global standard that replaces older region- and manufacturer-specific specs and simplifies design on a global scale.
Additional content on this topic:
Global Collaboration Delivers Unprecedented Hose Solution
Top 5 Reasons Customers Choose GlobalCore Hose
Selecting Hydraulic Hoses and Fittings Just Got Easier | Case Study